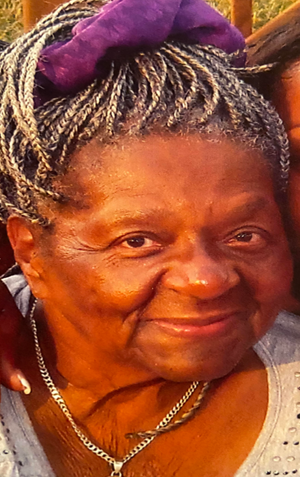 Obituary of Marjorie Hazel Boston
Bronx, NY
Marjorie H. Boston, 93, passed away at Good Samaritan Hospital in Suffern NY, Friday July 9, 2021 after a short stay at The Willows Nursing and Rehab Facility. She was born April 10, 1928 in Hartford, Connecticut. She is preceded in death by her Father and Mother, the late Fred and Eva Neal, and her Brother Frank Cauldwell aka Uncle Junior. Her youth was spent in the Bronx, NY. She graduated from Central Commercial High School.
She was a long-time resident of the Bronx where she lived since leaving her childhood home.
Marjorie was married to James DuBose (who preceded her in death) and out of that marriage had a son, Young Dubose (aka Poppy). Her second marriage was to Eldred Boston who also preceded her in death; from that union she bore two more children, Denyse (aka Nesie) and Brett Boston.
While living in the Bronx, NY she worked as an Office Aide for the New York City Housing Authority for many years until retirement.
She was a great cook, loved to sew and had a passion for making everything from clothing to curtains, pocketbooks and the like and a collector of fine African art figures and Jewelry. One of her greatest passions was traveling regularly to flea markets here in NY and even venturing out to New Jersey where she was adept at finding the best of items. She was a very spiritual woman who lived with the faith of God on her side. Much loved by everyone and anyone who knew her.
Survivors include her daughter, Denyse of Warwick, NY, sons Young and Brett of New York city, her daughter-in-law, Dorothea (Dee), three granddaughters, Yvette Molina, Cheri-amour of Upper Darby PA and Alexis of Georgia (whom she referred to as her Ginger Ale because she was so bubbly), five Grandsons, Sean, Troy, Matthew, Maurice and Courtney. Her Great Grandson Malik Nasir Cruz, Verlinda Davis, and Cheryl Brown, who all shared a special bond with her, and a host of great grandchildren.
Marjorie Boston will always hold a special place in our hearts. Weep some but rejoice knowing that she has touched us all in a way that will live on forever.
Visitation will be held on Friday, July 16, 2021 from 10:00am to 12:00pm at the Warwick Center - Mulder Chapel, 62 Warwick Center Road, Warwick, NY 10990. A funeral service will take place at 12:00 noon. Burial will immediately follow at the Warwick Cemetery, Route 94 in Warwick.
Funeral arrangements are honorably entrusted to Zygmunt-Murtie Funeral and Cremation Service - 845-977-6127 or visit www.zmmemorials.com.
To send flowers to the family or plant a tree in memory of Marjorie Boston, please visit Tribute Store
Visitation
10:00 am - 12:00 pm
Friday, July 16, 2021
Warwick Center - Mulder Chapel
62 Warwick Center Road
Warwick, New York, United States
Funeral Service
12:00 pm - 12:30 pm
Friday, July 16, 2021
Warwick Center - Mulder Chapel
62 Warwick Center Road
Warwick, New York, United States
Burial
12:45 pm - 1:00 pm
Friday, July 16, 2021
Warwick Cemetery
Route 94
Warwick, New York, United States